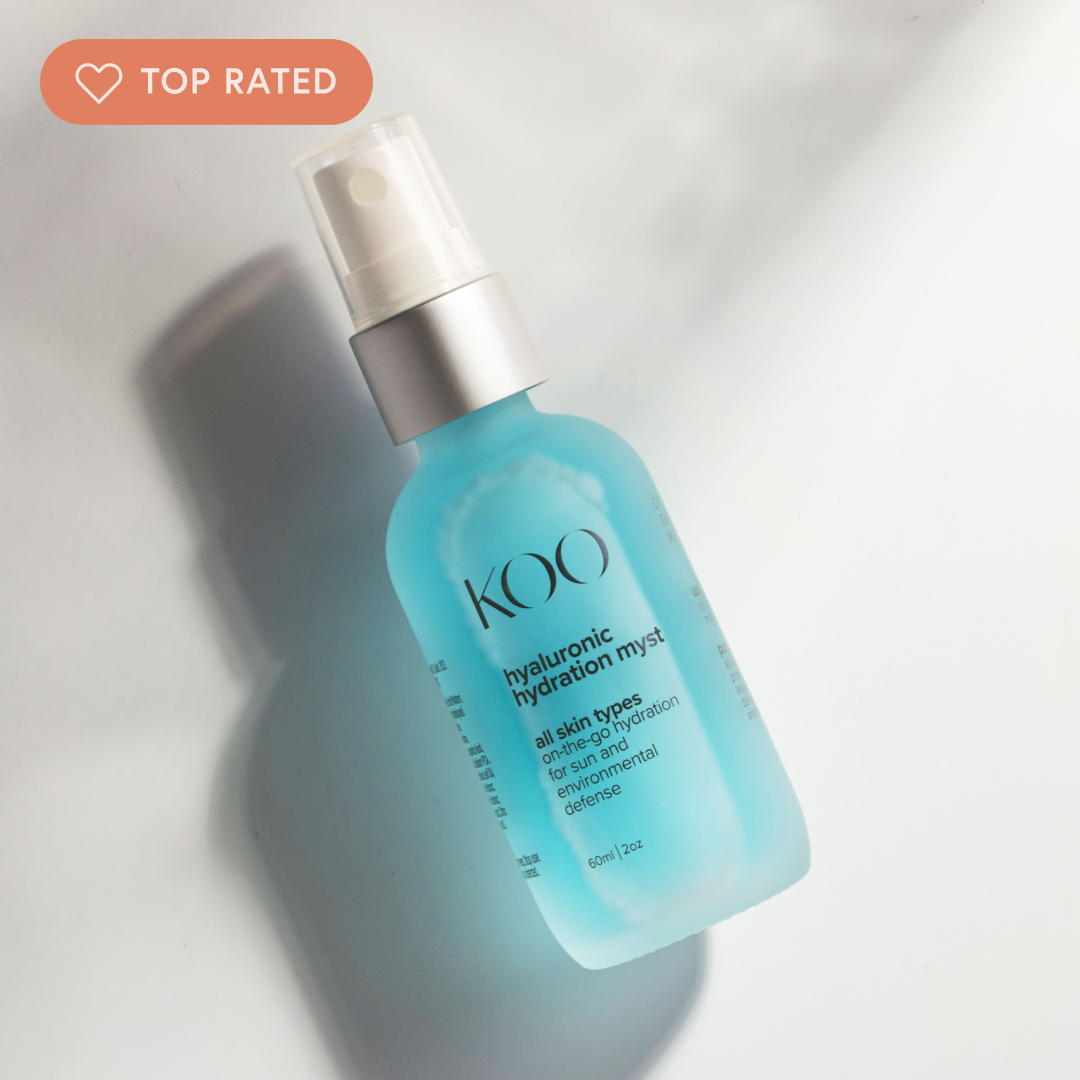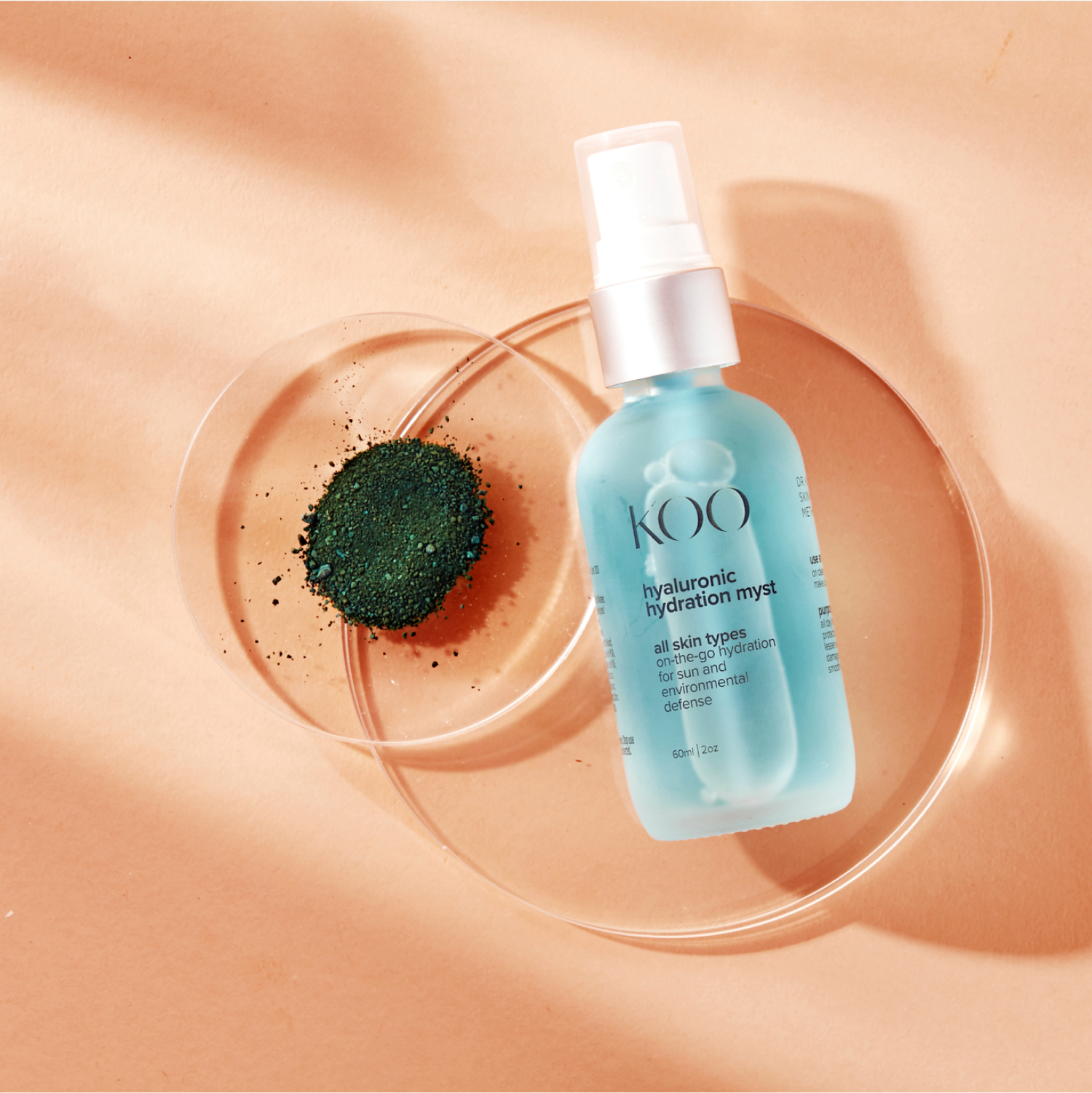 Moisture-replenishing, radiance-revitalizing Myst
Hyaluronic Hydration Myst
WHAT IT DOES Hydrates, Revitalizes, Soothes, Protects, Imparts Instant Radiance
WHO ITS FOR All skin, especially dull, dry or stressed
KEY INGREDIENTS Sodium Hyalurontate, Minerals, Kiwi Water, Mullein Flower, Malachite
FREE SHIPPING ON ALL ORDERS
60ml - A multi-active, moisture replenishing Myst formulated to refresh and revitalize dry, dehydrated and stressed-out skin. Supercharged with Hyaluronic acid and kiwi water to deeply hydrate, calm redness and boost cellular vitality for a radiant, re-energized look. An antimicrobial mineral complex thwarts breakouts. Malachite provides an essential layer of protection and gives the Myst its beautiful blue color.
In the morning, apply to clean skin, before you apply any other product. You want the skin to drink in the hyaluronic acid and other active ingredients. Then, mist it over your face throughout the day to refresh skin and makeup, and provide a veil of protection from skin-damaging environmental elements.
Purified Water, Actinidia Chinensis Fruit Water, Glycerin, Sodium Hyaluronate, Malachite Extract, Hydrolyzed Verbascum Thapsus Flower, Zinc Gluconate, Glycine, Phenylalanine, Serine, Proline, Valine, Xylitol, Histidine, Copper Gluconate, Isoleucine, Arginine, Alanine, Aspartic Acid, Threonine, Magnesium Aspartate, Anhydroxylitol, Sodium PCA, Sodium Lactate, Xylitylglucoside, Eucalyptus Globulus Leaf Oil, Eucalyptus Leaf Extract, PCA, Mentha Arvensis Leaf Extract, Potassium Sorbate, Mentha Piperita (Peppermint) Extract, Sodium Benzoate, Mentha Viridis (Spearmint) Extract, Citric Acid, Phenoxyethanol, Triethyl Citrate, Polysorbate 20, Ethylhexylglycerin, and Sodium Hydroxide
Pleased
This is the final product for my daily face routine. All of them together have taken years off my skin and added compliments for how good i look!
Gentle for your skin
I admit, I was drawn to the product's beautiful blue color so it's one of the reasons I chose this mist. Other than that, I'm a huge of Hyaluronic Acid because it does help with hydration. I keep it in my backpack to refresh my skin throughout the day because summer drys up skin. It does not leave a sticky residue and keeps my skin feeling moisturized. I also like that it contains high quality ingredients to protect my skin from harmful environmental elements which my town is known for having air pollution.
Love
So refreshing and love the way it makes my skin feel: dewy, hydrated and glowing.
Very refreshing
I absolutely love this myst . I take it with me when on a date with my husband. It's so refreshing and soothing on the skin. I love the fact that it helps protect against toxins. Great product. It's a must have!
The best for sensitive skin!
I absolutely love this product! I have dry and sensitive skin, and hydration is number one - of the most important part of my skincare routine. I'm using it before makeup, on top of makeup, and during the day!