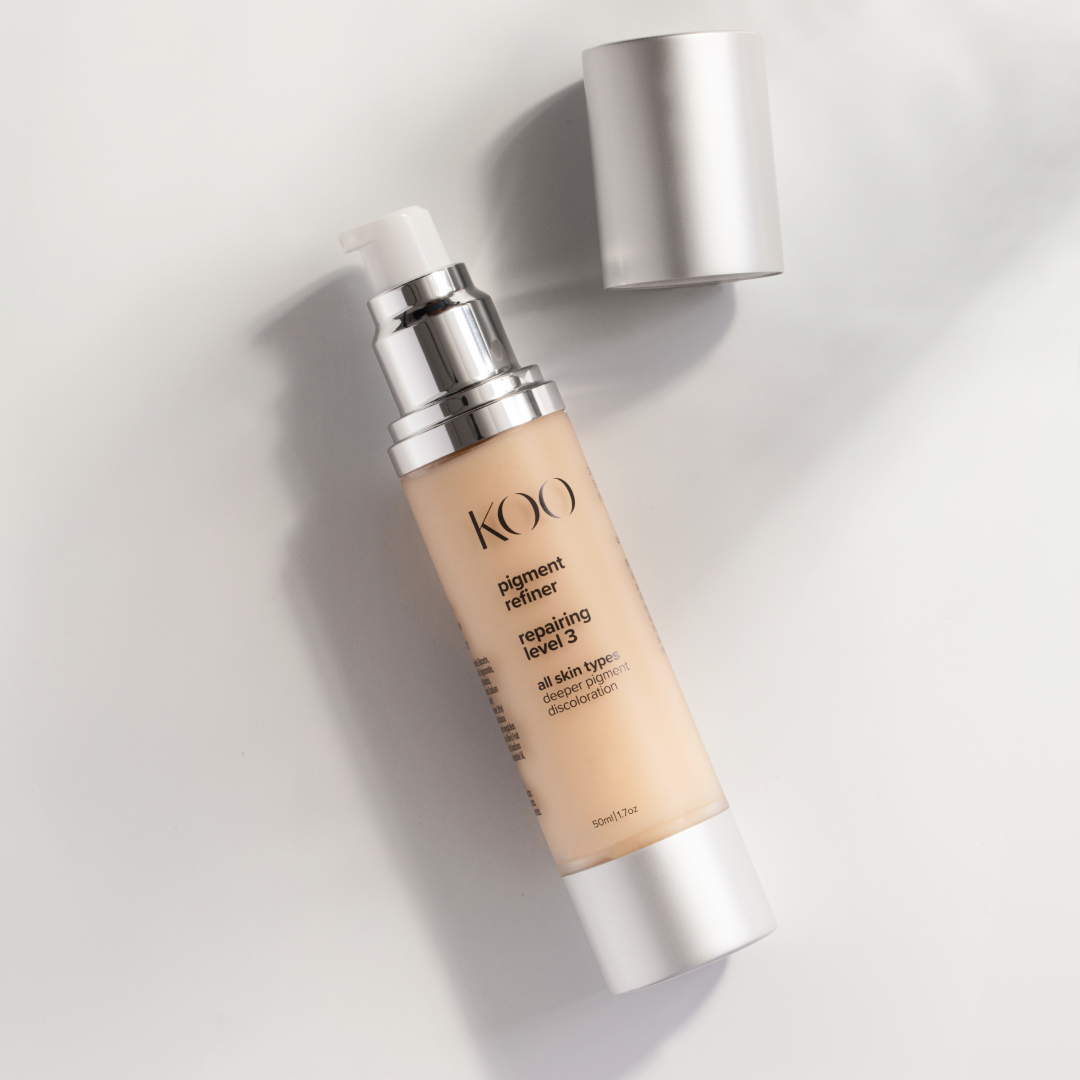 LEVEL 3: PIGMENT REFINER - REPAIRING
WHAT IT DOES restores skin brightness and reverses dark age spots
WHO ITS FOR moderate to advanced discoloration
KEY INGREDIENTS kojic acid, matcha green tea, and marula oil
FREE SHIPPING ON ALL ORDERS
A noticeably sallow complexion and darker, uneven pigmentation is treated with Level 3. This highly specialized formula uses a proprietary blend of peptides, niacinamide and matcha green tea at a concentration designed to inhibit and reduce excess melanin production, while brightening and balancing skin's surface. Over time, skin regains its natural petal undertone and appears more uniform. For all skin tones.
Use in the AM only after splash of cool water.

Always apply sunscreen of SPF of 15 or higher daily to prevent sun sensitivity.


Purified Water, Niacinamide, Glycerin, Squalane, Ethoxydiglycol, Caprylic/Capric Triglyceride, Glyceryl Stearate, PEG-100 Stearate, Cetyl Alcohol, Sclerocarya Birrea Seed Oil, Hexylresorcinol, Sodium Hyaluronate, Tetrapeptide-30, Ceramide NP, Phytosterols, Camellia Sinensis Leaf Powder, Ethyl Linoleate, Tocopherol Acetate, Persea Gratissima (Avocado) Oil, Dimethicone, Mica, Prunus Amygdalus Dulcis (Sweet Almond) Oil, Olea Europaea (Olive) Fruit Oil, Sodium Polyacrylate, Cetearyl Alcohol, Disodium EDTA, Phenoxyethanol, Hydrogenated Vegetable Oil, Stearic Acid, and Ethylhexylglycerin
Pigment refiner
Excellent product. Very happy with my results.
Amazing Pigment Refiner
I have been using the Pigment Refiner Repairing Serum and have been thrilled with my results. My brown spots are lighter and my uneven skin tone is less noticeable as well. So happy to have found a product line that really works and doesn't cause skin irritation as I have experienced with other products in the past. I use most of Dr. Koo's skincare products and they work as she says they do,
This is helping me keep my melasma under control!
I'm going to be very honest and say that I have Melasma that always comes back. Summer heat/sun, hormones and my affinity for hot yoga classes and sweaty workouts are my worst enemies when it comes to hyperpigmentation. I do my best to balance my life with a product like Dr. Koo's Pigment Refiner Level 3, and not give up on the things I love or my favorite season of the year :) This has helped me most to keep my Melasma from getting darker and blotchier. It lightens and fades my spots to look more like light freckles (which I'm good with!) and allows me to apply my makeup flawlessly. What I noticed is that I didn't experience any dryness or irritation in making the change from Level 2 to Level 3! And I always use SPF, which is easily layered on top since Level 3 isn't too thick and not greasy at all.
works like a charm
Dr Koo amazes me in her skin care products as they all work as she says they will! I know she uses her own products and her skin is fantastic. This product is working like a charm and getting rid of my brown spots, I use most of her skin care products and they all work together to accomplish beautiful skin. Thank you Dr Koo for another great product, which I love the new dispenser. I use this on my hands also, and it is fading the brown spots.