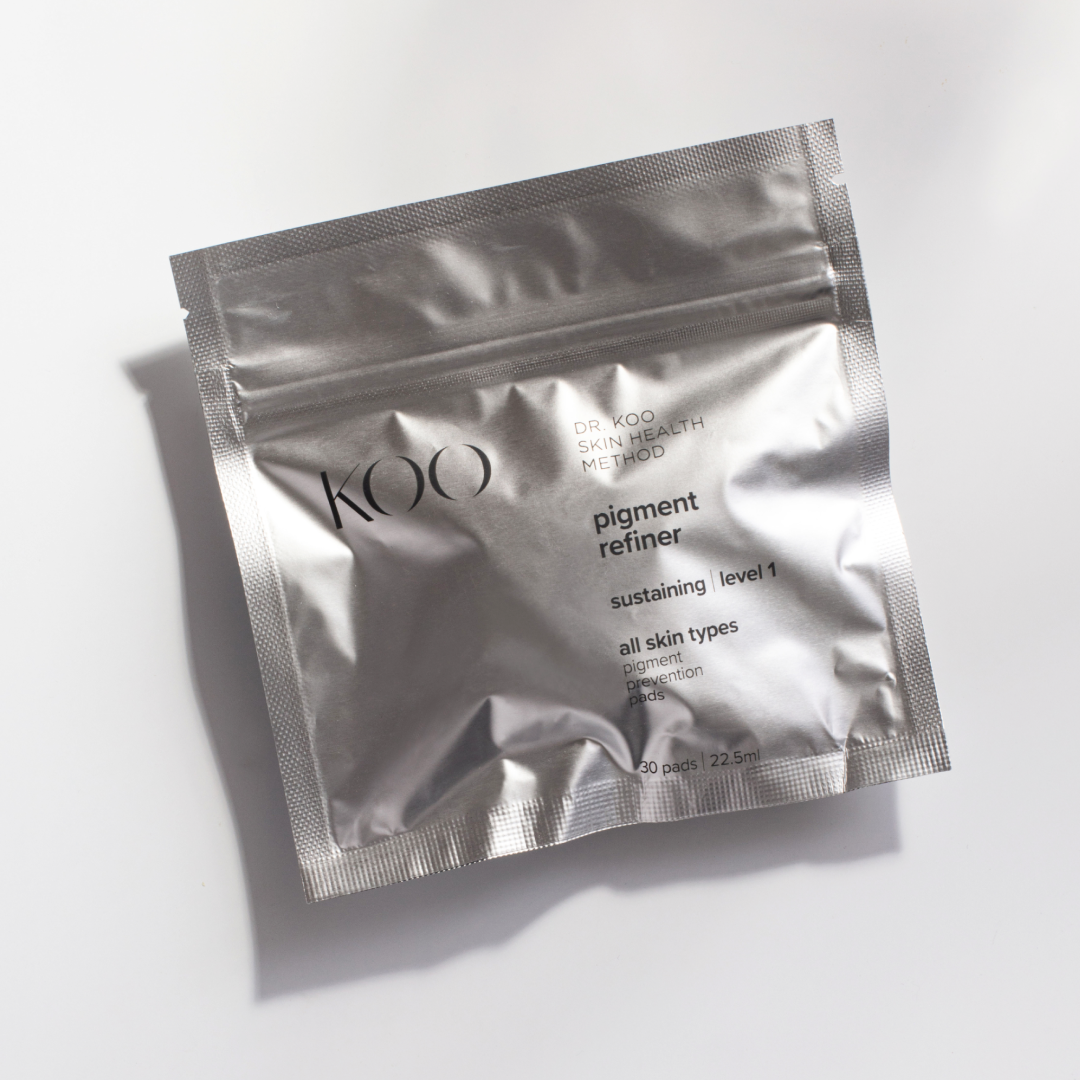 LEVEL 1: PIGMENT REFINER - SUSTAINING
WHAT IT DOES maintains undertone and prevents future age spots
WHO ITS FOR for all skin types
KEY INGREDIENTS arbutin, green coffee, and bearberry plant extract
FREE SHIPPING ON ALL ORDERS
Prevention starts here. As we age, our skin loses its cellular vitality, resulting in a sallow, uneven tone. Maintain skin's natural, petal undertone and inhibit melanin formation with daily use of our Level 1 Pads. Each pad is pre-dosed with the ideal concentration of peptides, vitamins, green coffee extract and bearberry extract for a bright and uniform complexion. For all skin tones. 
Use in the AM only after splash of cool water or Anti-Oxidant Cleanse if your skin tends toward oily or blemish prone.

Always apply sunscreen of SPF of 15 or higher daily to prevent sun sensitivity.


Purified Water, Glycerin, Niacinamide, Arbutin, Butylene Glycol, Palmitoyl Tripeptide-5, Caffeine, Sodium Hyaluronate, Tetradecyl Aminobutyroylvalylaminobutyric Urea Trifluoroacetate, Tetrapeptide-30, Tocopherol, Lecithin, Palmitoyl Dipeptide-5 Diaminobutyroyl Hydroxythreonine, Lecithin, Phenoxyethanol, Propylene Glycol, and Ethylhexylglycerin
Love
Am loving everything from this line, very high end!!
Love the product but Level 1 ran out long before Level 2 and 3. I even ordered level 1 again to supplement and again and I'm still not through with the bottles of level 2 and 3. I used it as directed. Any advice?
worth the splurge
I just upgraded from skincare at Sephora to Dr. Koo's magic goo, and I'm glad I made the switch! I'm a month into using this pigment refiner and my skin doesn't look as yellow as before. I have a yellow undertone, and typically in the winter when there's no sunlight, I go from tan to yellow real quick. I look sickly. But I can definitely see an improvement in my color with this! and it doesn't irritate or dry out my skin at all. My skin is very happy at the moment.
GLOW is the right label
This does enable a certain sheen to my skin. Never thought I'd have that again at my somewhat advanced age! Like all of Dr Koo's products, it works really well, lasts a long time, and is worth every penny! I had to stop using her products for a few months and can't wait to start again. I think it takes the combination of all of the products to make the biggest positive difference in your skin - cleanser, moisturizer, retinol, nutrients.